Porcelain tile staircases are highly in demand nowadays as they combine the functionality offered by porcelain tile materials (hardness, easy cleaning, resistance, chromatic variety, a diverse range of finishes and multiple formats) with the ease of being able to use the very same material in a project to clad staircases and flooring throughout a home to achieve that oh-so trendy continuity which creates the optical illusion of spaciousness in addition to color coherency among the various areas.
Besides their functionality and esthetic look, these kinds of staircases add value to any property. It's a smart choice for those looking for modernity and durability. When referring to porcelain tile staircases or porcelain tile stairs, we're talking about a material that not only resists the passing of time but also maintains all the original beauty with minimal care.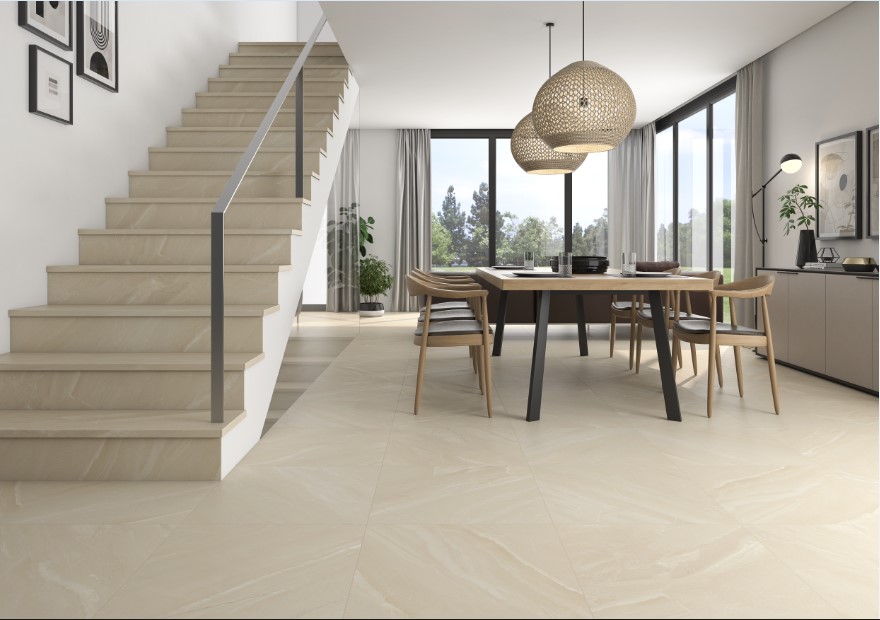 Advantages of porcelain tiles stairs
Extruded porcelain tile staircases offer all kinds of advantages as mentioned below.
Easy-to-clean (no stains and no loss of shine).
They're more robust than marble and wood.
Greater resistance to wear.
They can imitate any element in nature.
Decorative on all visible areas.
Various finishes possible for interiors and exteriors.
The availability of specially finished pieces to match the step treads such as corners, risers, stringers, caps... and enhance the final look.
With all of these characteristics, extruded porcelain stoneware is the top choice for all types of projects - both renovation work and new construction. They're particularly outstanding when it comes to maintaining spatial harmony and flow as well as visual coherence.

Porcelain tiles for stairs
Make sure the porcelain tile staircase in your home or place of business is not just another element of passage but rather an identity mark in and of itself to provide the space with character and coherence.
Porcelain tile for staircases can range from small 30 cm formats to XL 120 cm formats, which means a single piece can be used on each step tread for a spectacular effect, all with matching risers and flooring.
The effect can be even more impressive as the same model can be installed indoors and outdoors, with a silky feel for the interior pieces and a non-slip coating on the exterior pieces for safety.
Download our catalog to get all the details on our porcelain tile staircases!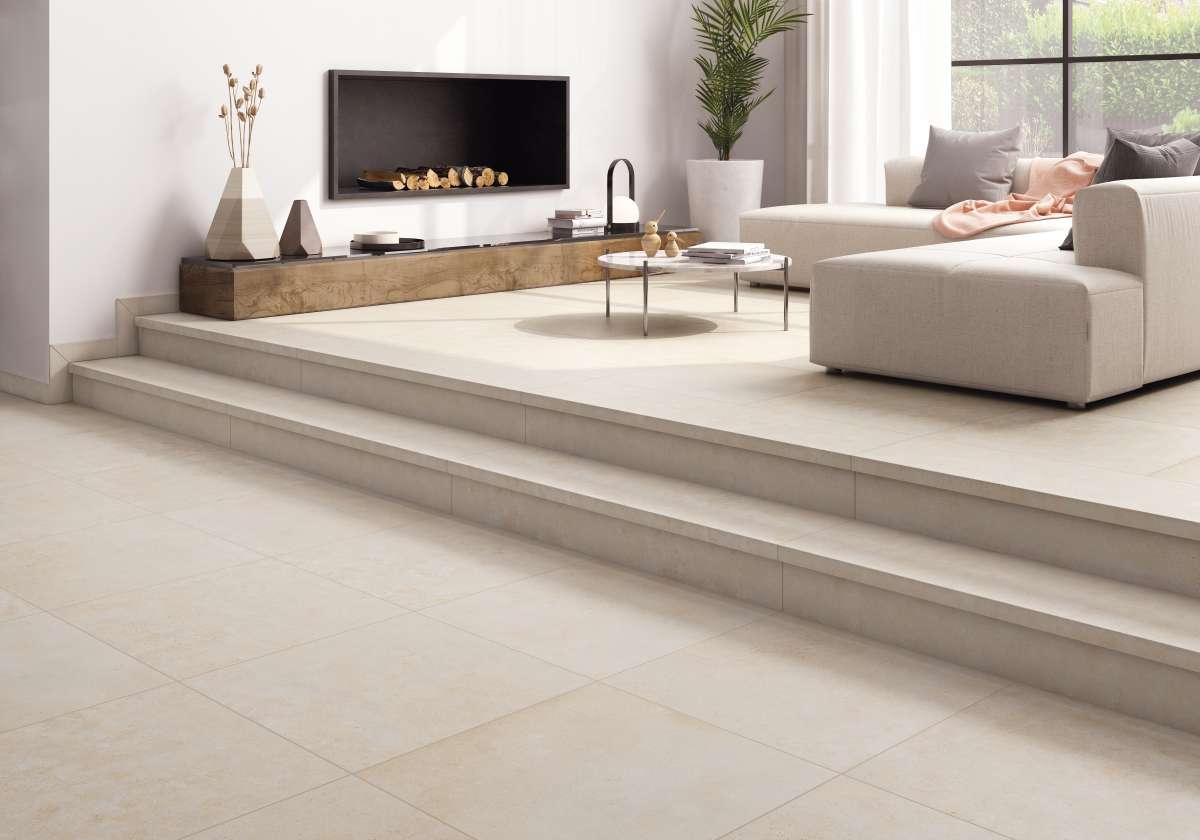 How do you clad staircases with porcelain tile?
The process of cladding staircases with porcelain tile is a task that requires precision and technical knowledge to ensure optimal results. Start by choose the right material. Not all porcelain tiling is equal. When choosing, always consider the intensity of use, the desired design and the functional purpose of the space.
Once you've chosen the material, prepare the surface. Make sure it's level and free of any imperfections as well as clean. This may involve sanding or leveling the subfloor and cleaning it of any residue or dust.
The installation of porcelain tile staircases requires an experienced porcelain tiling professional who uses quality adhesives and considers vital details such as expansion joints to enable the natural movement of the material without causing damage.
Finally, special pieces for staircasessuch as corners and edging add a distinctive touch as well as a quality look to any project, thus ensuring the staircase is not only functional but also part of the entire spatial design.

Types of steps for porcelain stoneware stairs
We offer two types of steps, the ones with the rounded edge, and the "straight" steps, all of them with their different finishes and formats.
Gres Aragón There are all sorts of finishes such as imitation wood, which is in rather high demand throughout the market, imitation stone, cement, marble...
Unlike many step treads and special pieces for staircases that exist in the market which are die-cut to produce step treads that can be glued together, at Gres Aragón, we manufacture single-piece step treads by extrusion to achieve a much better and longer-lasting visual and technical result.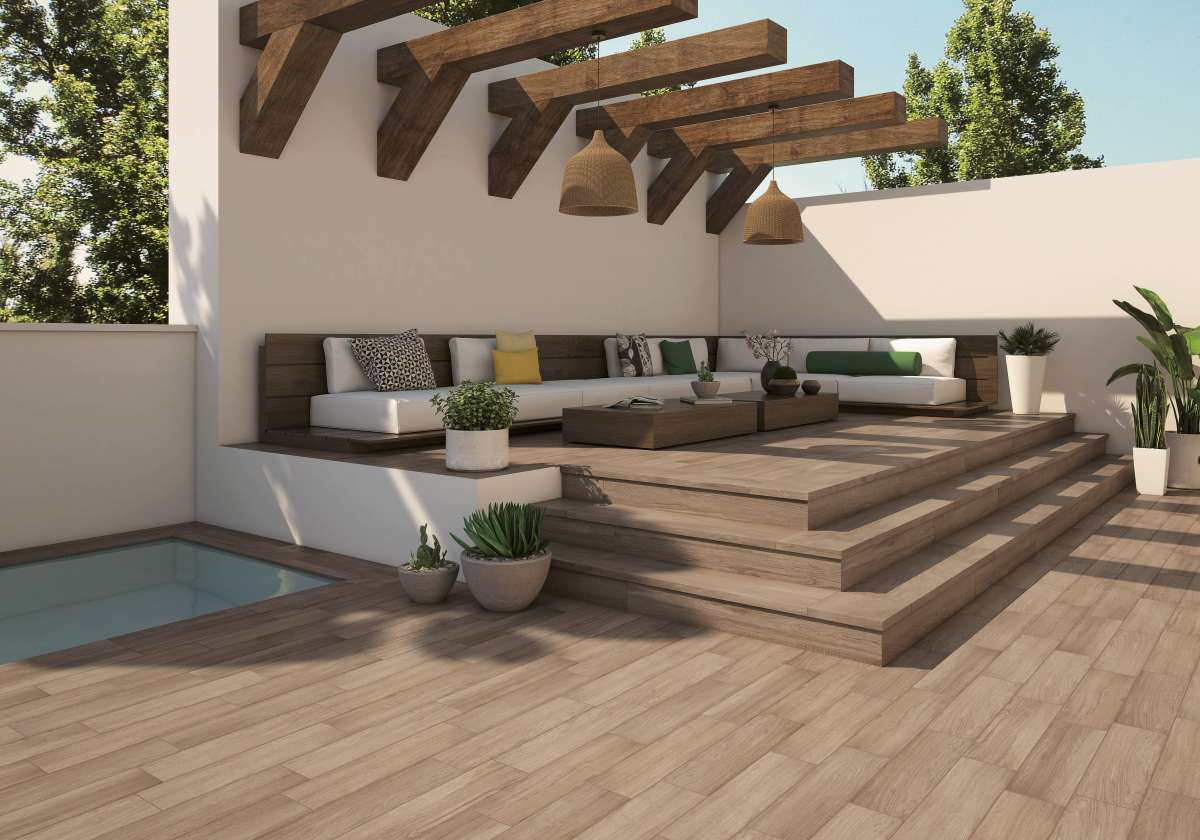 Ready to give your staircase a whole new look? Contact us and find out about all the porcelain tile solutions for staircases we offer at Gres Aragón.
José Sorribes Ibáñez
National Sales Manager at Gres Aragón