Nowadays, porcelain tile stairs are a highly-demanded option since we combine the functionality provided by porcelain materials (hardness, easy cleaning, resistance, colour variety, a wide range of finishing and multiple sizes) and the easy way to use it in our projects, having the same material to cover the staircase and to pave the house's floor. The result is a trendy continuity or extension, which causes the optical effect of spaciousness and a chromatic coherence among the different spaces of the house.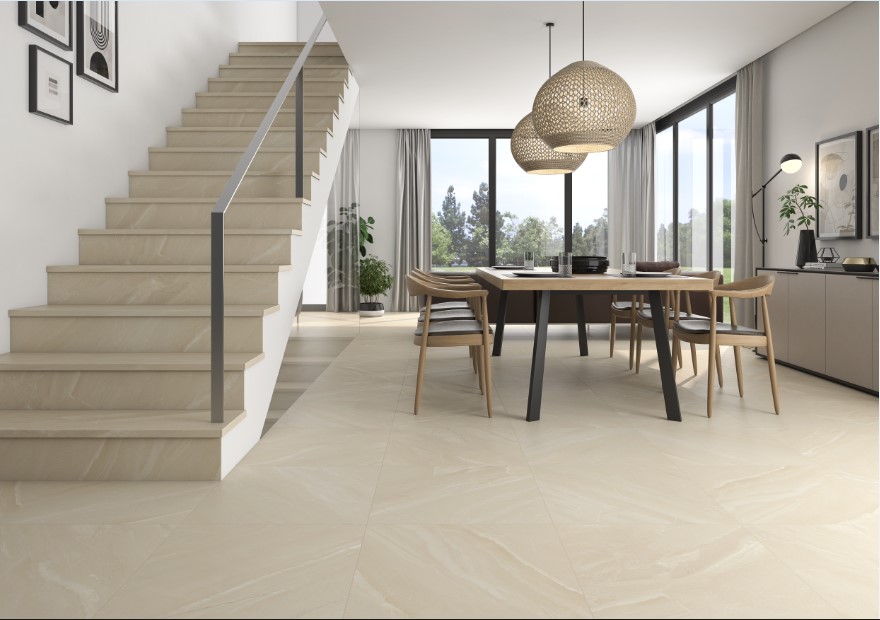 Porcelain tiles for stairs
Your home or business stairs don't have to be just an element of passage, they need to have its own personality, giving coherence to any space.
Porcelain tile stairs range from small formats of 30 cm. to extra-large format of 120 cm., which makes it possible to place a single piece on each step, becoming a spectacular effect, matching also with the riser and flooring. Ceramic porcelain tile can be placed both indoors and outdoors, with a smooth finishing inside the house and a non-slip finishing on the outside, for security reasons.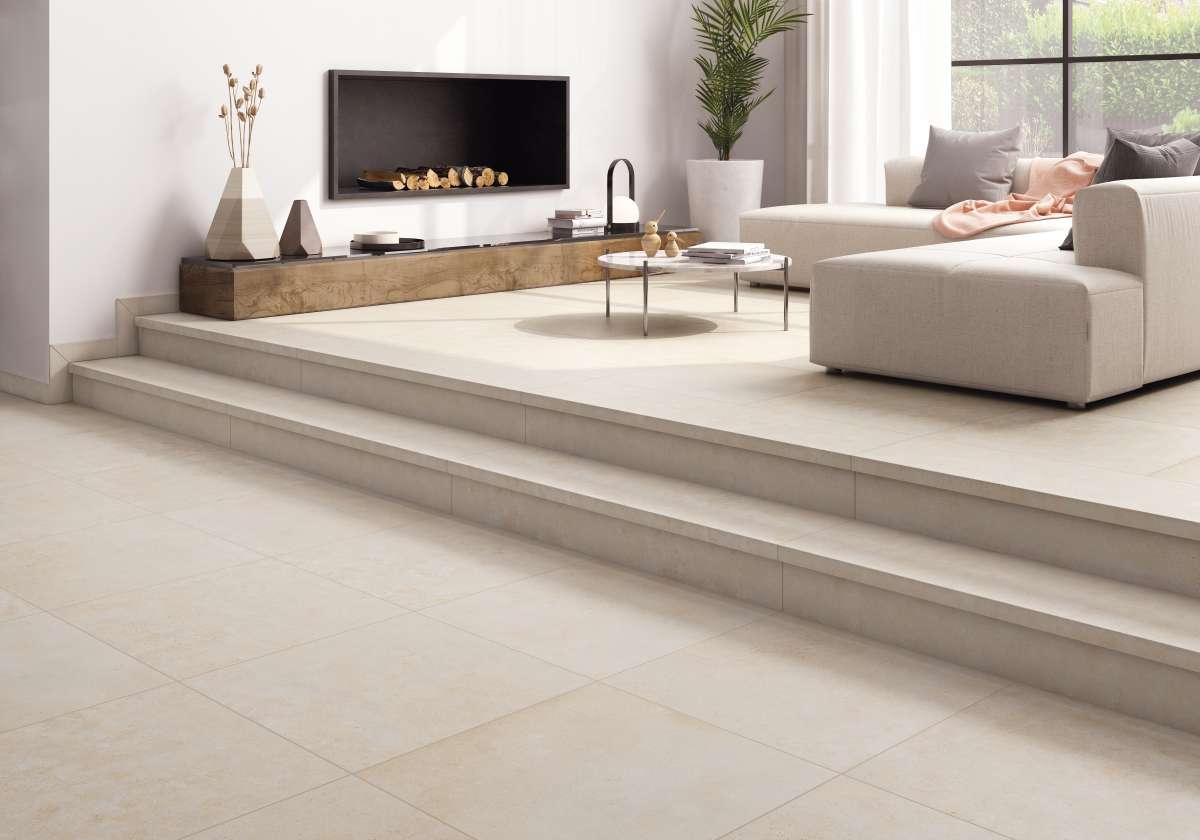 Types of steps for porcelain stoneware stairs
We offer two types of steps, the ones with the rounded edge, and the "straight" steps, all of them with their different finishes and formats.
Gres Aragón dispone de varios acabados como pueden ser imitaciones a maderas, tan demandadas en el mercado, imitaciones a piedras, cementos, mármoles…
A diferencia de gran cantidad de peldaños y piezas especiales para escaleras que existen en el mercado, mecanizados en talleres para poder obtener un peldaño pegado. En Gres Aragón fabricamos los peldaños de una sola pieza, fabricados por extrusión, dando un resultado visual, técnico y duradero mucho mejor.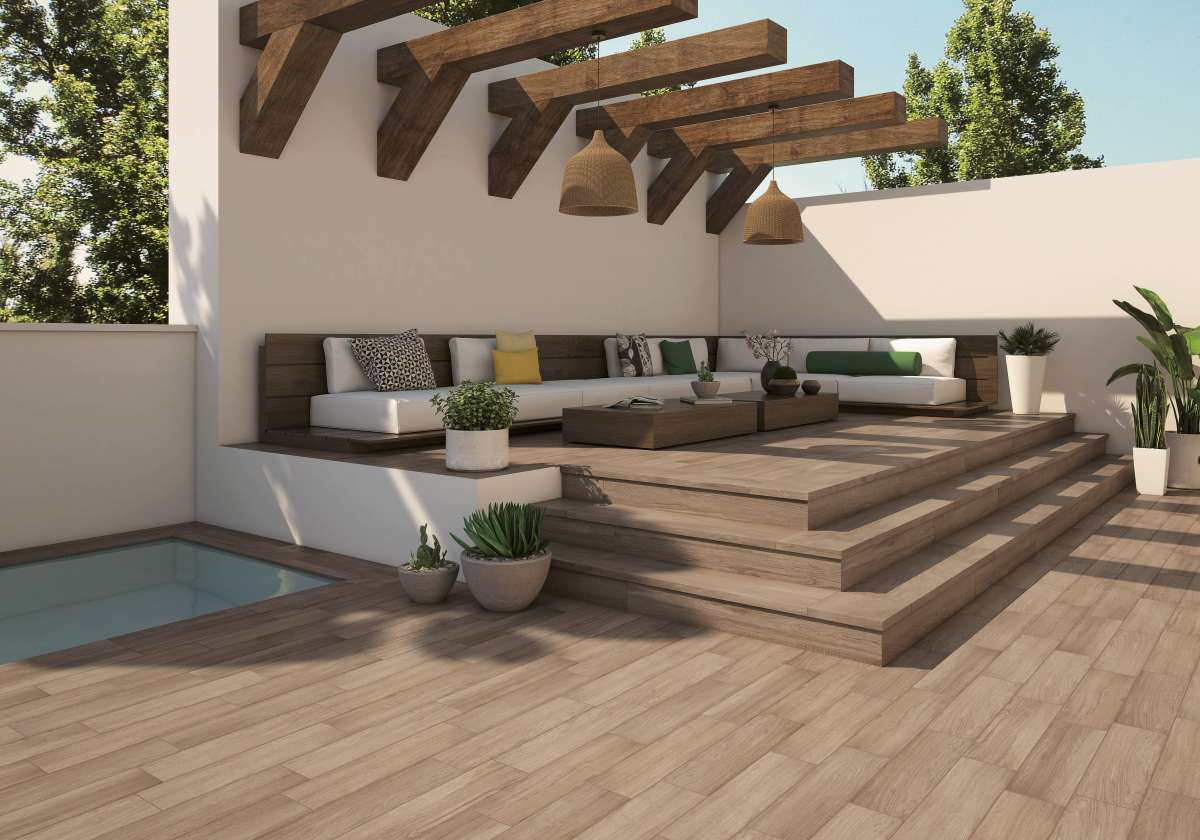 Advantages of porcelain tiles stairs
The extruded porcelain tile stairs have a great number of advantages such as:
Easy cleaning (they don't get dirty or lose the bright effect).
More robust than marbles and woods.
Greater resistance to use.
Imitation of any element of nature
All visible parts are decorated.
Both indoor and outdoor finishing options
Availability of special finishing pieces complementing the steps such as corners, risers, strings... improving this way the final result.
With all these characteristics, extruded porcelain tile stairs are the best choice for all types of works, both refurbishments and new construction.
José Sorribes Ibáñez
National Sales Manager at Gres Aragón