Pool flooring requires a very careful choice of tiling material. Features like resistance, durability, low porosity and having a non-slip surface are essential when approaching a project of this kind.
As specialists in offering the best construction material for pools and with an extensive catalog of designs and special pieces to enhance the designs, Gres de Aragón has two specific lines: one for public sports pools and another for private and residential pools.
Choose what you're looking for to get more information
Recreational pools offer the widest range of possibilities when planning and designing them, especially in esthetic terms.
The sky's the limit when choosing the right material. Extruded stoneware is capable of blending the highest-performing technical characteristics with an extensive choice of finishes: from warm wood and elegant marble to natural stone and cutting-edge designer cement.
Public sports pools are subject to extreme demand due to their purposes and intense conditions of use. Extruded stoneware has become the ideal material when building these types of facilities as it offers unbeatable resistance and durability not to mention the fact it's very hygienic and easy-to-maintain material which are all essential conditions for public sports pools.
Characteristics of pool flooring
On the one hand, pool flooring is constantly in contact with water and chlorine which are elements that can affect its technical and esthetic integrity. On the other hand, pool flooring is crucial to safety.
These needs directly influence the choice of materials used to build the flooring for pools and surrounding areas. Gres de Aragón extruded stoneware is capable of perfectly combining the highest-performing technical features of resistance, durability and hygiene with the most attractive designs and greatest safety guarantees not to mention the non-slip finishes available in our various collections which makes them really stand out.
Another aspect that tips the scale towards this material is the low maintenance (due to the low porosity of extruded stoneware and its resistance to stains and acids), which is highly valued in construction when paving outdoor areas such as pool flooring.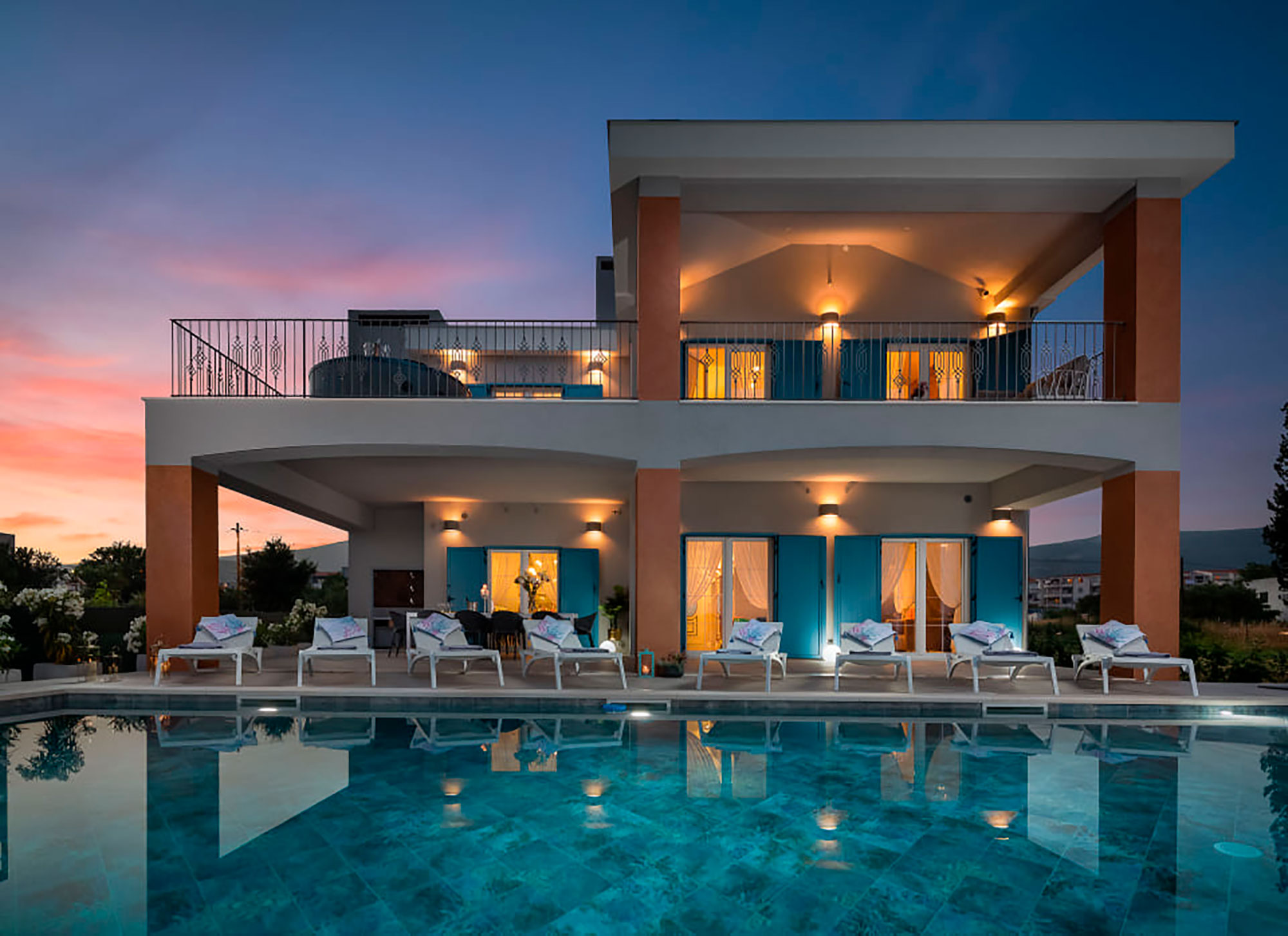 Non-slip stoneware for pools
One of the fundamental purposes of pool flooring is undoubtedly offering the utmost safety for users. As flooring that is constantly wet and damp both inside the basin as well as around the edges and over the coping, it must offer the ideal non-slip level to prevent slipping and falling. To this end, Gres de Aragón offers a C-3 non-slip finish (the highest non-slip level) with most of its products, thereby expanding the range of possibilities for building different pool types and designs with the highest standards of safety.
Outdoor flooring for pools
Pool flooring not only covers the inside of the basin or edge, it can go beyond that to include the coping and terrace space.
Besides the undeniable technical features required for this kind of flooring, the look is becoming more and more important when planning these areas. Thus, being able to rely on collections that offer global technical solutions all while being completely in line with current trends is essential.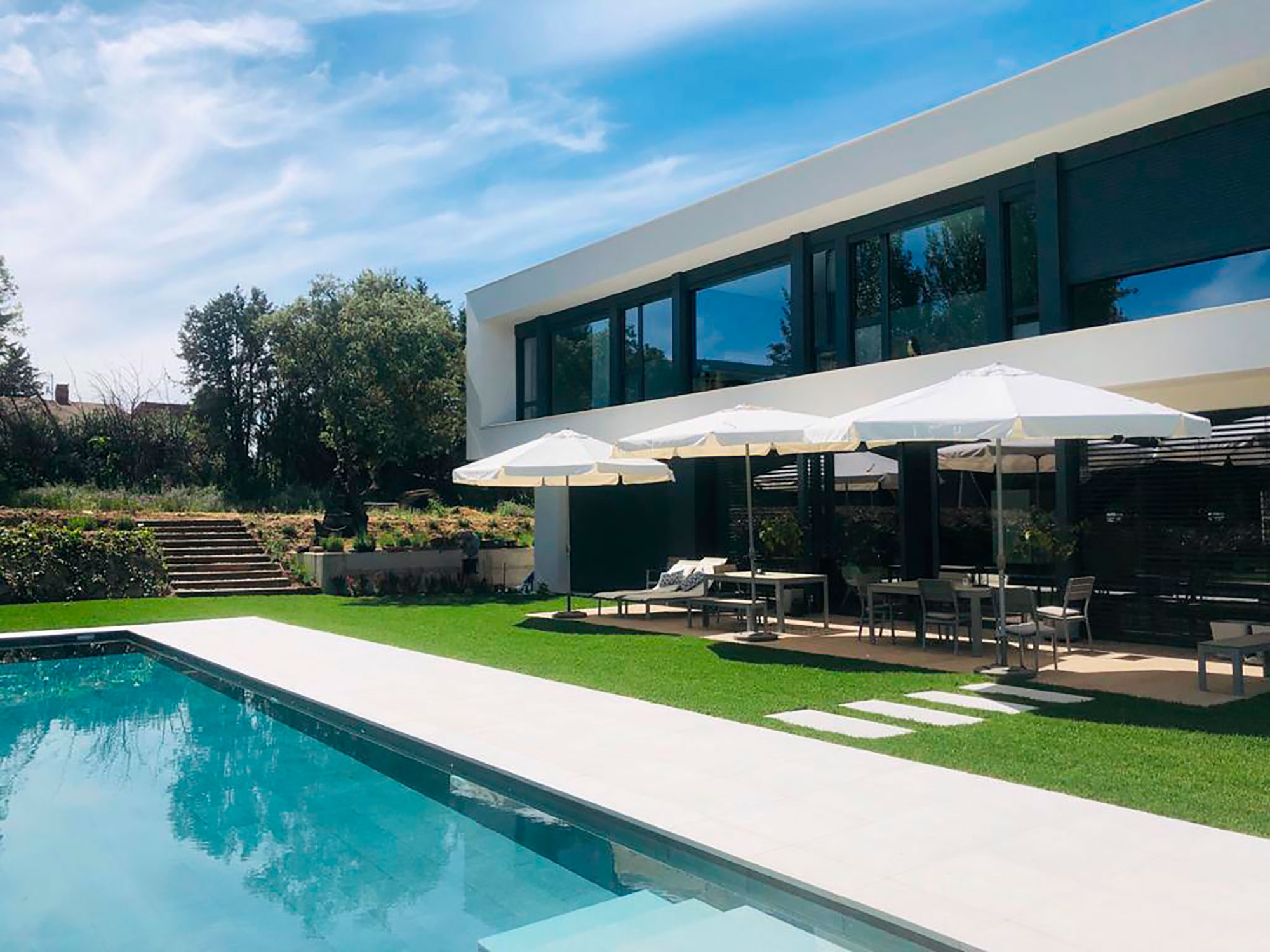 Trends in pool floor tiling
There are almost as many trends in pool floor tiling as there are designs available. One of the preferred choices which has gained in popularity in recent years is planning fully integrated pool and terrace areas.
By cladding the edging, stairs, coping and terrace with the same finish as the pool basin, the design visually integrates all of these areas to create unbeatable harmony and homogeneity for an amazing look.
Read more
From wooden-inspired ceramic collections to give a pool warmth Ordesa , to more modern and minimalist collections like Urban to even the latest Bali stone style trend with the collection Ocean.
Always on the cutting edge of the latest trends, the Gres de Aragón catalog offers a large variety of collections to create integrated designs with full technical and esthetic guarantees to build structures where quality and design go hand in hand.
Prices for flooring to surround pools.
If you need more information on our collections of pool flooring, please contact us.We'll be pleased to advise you on anything you need for your project.
A member of our Sales Department will get you all the information available very soon.