Always on the cutting edge of the latest trends, Gres de Aragón has an extensive catalog of designs for exterior flooring in excellent quality material with a great variety of models and finishes so your project will surpass all expectations.

Characteristics of outdoor terrace flooring
Ceramic is considered to be one of the safest and most timeless construction choices in the architecture sector, especially due to its versatility, resistance and durability. These characteristics are also present when used outdoors where it's the ideal material for installation.
Extruded stoneware stands out among all ceramic as an excellent choice for exterior flooring. It's a material that barely requires any maintenance and offers high versatility for construction and decoration as it can be used for flooring, walls, staircases, ceilings, facades, pools, etc. Plus, an even more resistant and long-lasting material is being achieved with all the new technologies arising in the industry.
Read more
The materials Gres Aragón obtains through its extrusion production process have excellent technical features such as high frost resistance, high thermal shock resistance and non-slip finishes among many other advantages which make them excellent choices for outdoor areas.
And it's not only suitable for terrace areas, it is also one of the best choices for pool design. Pools can be built with ceramic tile flooring for an even finish and optimal durability. This makes it possible to plan outdoor areas with the same materials for the area surrounding the pool as well as the edging and inside of the pool for an integrated design of high esthetic value.
On the other hand, new developments in exterior design go beyond traditional classical flooring and pool interiors with gresite. Nowadays, different finishes can be used to design pools with a wooden, stone, marble or other effect without ignoring the highest safety and hygiene requirements for these types of structures.
Gres Aragón has all the ceramic needed to build pools through its Acepool division.
The latest trends in terrace floor tiling
The latest market trends in terrace floor tiling differ greatly from the classic solutions of the past.
The new characteristics of materials that can be implemented such as the extruded pieces produced by Gres Aragón make it possible to create volumetric pieces such as step treads, corners, pool edging, etc. This is key to one of the biggest trends in exteriors: the same finishes inside and outside a home without differentiating the areas to create visual design continuity that can be extrapolated to the entire project.
Types of terrace flooring
Ceramic floor tiling is a great choice for outdoor areas like terraces. The great variety of designs available and their technical features bring personality, quality, reliability and safety to all the exterior design elements.

Zero construction outdoor terrace flooring
People sometimes think the best choice for a terrace is a flooring system based on loose pieces installed with a click -like the classic wooden or resin floors- or even that handy artificial grass since they're materials you can use to make substantial changes without any construction work.
Nonetheless, these types of options are quite expensive given the results achieved as the flooring must be replaced over time given that it is subject to very high wear and does not resist inclement weather like ceramic tile flooring. This means the investment in time and money is greater. Thus, the best quality comes with outdoor ceramic tile flooring. With excellent durability and considering it's a lifelong construction solution, you'll only need to install it once and it will last forever.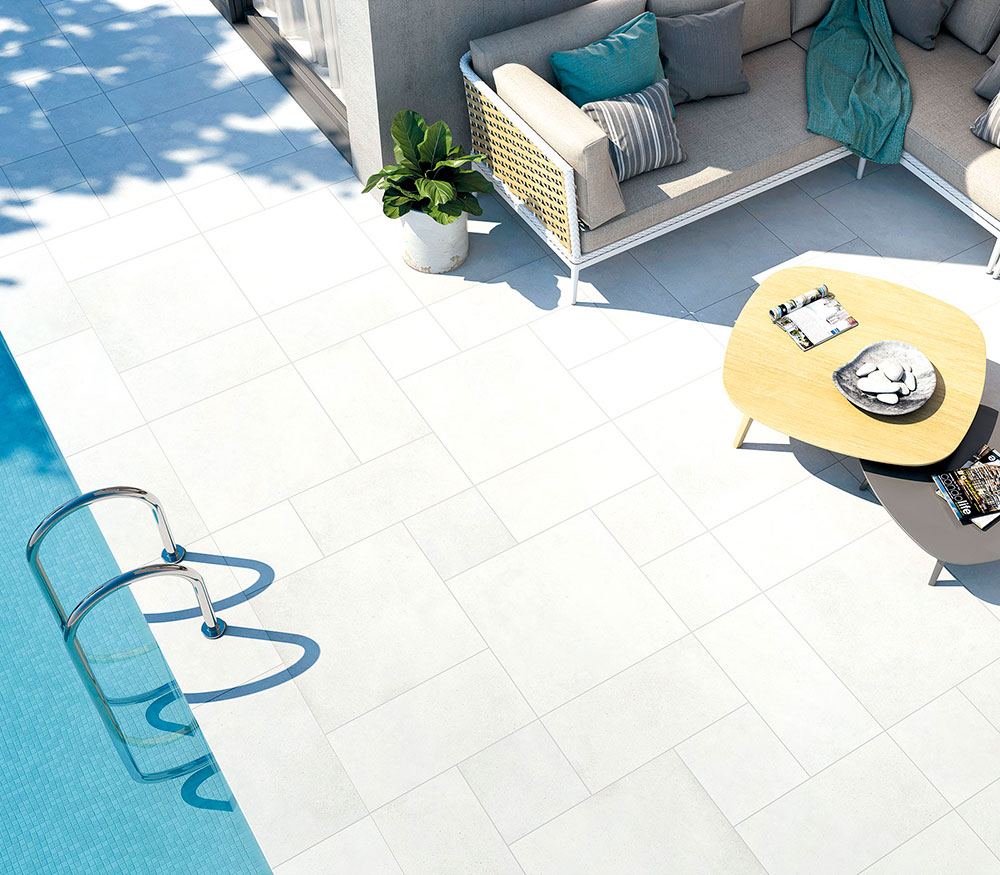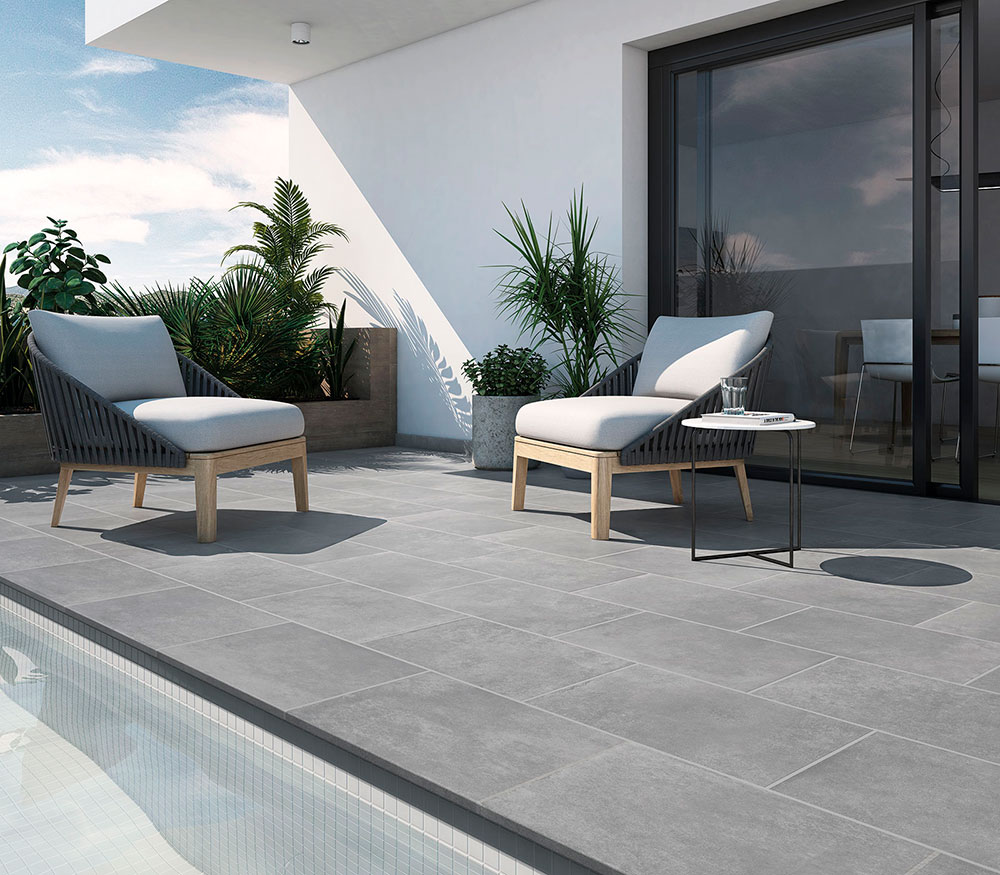 Non-slip outdoor terrace flooring
At Gres de Aragón, we offer high-quality finishes. Our aim is to continue innovating to offer the best material for any type of design.
With our non-slip outdoor terrace flooring, we've achieved an innovative design with the ideal characteristics for installing exterior flooring where safety is the top priority. The C-3 non-slip finish on our collections prevents slipping and falling on wet or icy floors which is a requirement all the floor tiles we produce meet. It can be installed around a pool, for example, to prevent the danger involved with always being wet when used. And in cases of rain or frost, outdoor terrace flooring that is non-slip prevents falling.
Prices for terrace flooring
The price of outdoor terrace flooring varies based on the type of material, design and quantity needed for your project. With Gres Aragón, you can request a commitment-free quote. Contact us here., we'd be happy to answer your questions.