PORCELAIN TILE POOL CLADDING
Porcelain tile pool cladding.
Technology and innovation are making progress in the world of design and construction. More and more materials, formats and designs are being used all the time to build and decorate various architectural elements.
In the pool sector, choosing the right pool cladding is a crucial decision when it comes to building or renovating a pool.
Of the options available nowadays, cladding pools with porcelain tile is one of the most popular choices for a few goods reasons.
In this article, we'll explore the latest in pool cladding as well as the benefits of choosing ceramic tile cladding for a pool.
Before delving into this post, always remember that porcelain tile is a type of high-quality ceramic.
It's made with clay and other minerals. During the production process, these materials go through phases such as pressing or extrusion and glazing and then are baked at high temperatures.
It all results in compact, practically impermeable material.
The latest in pool cladding
At Gres Aragón, we're committed to porcelain tile pool cladding, as well as the use of this material for other home areas indoors and outdoors (flooring, terraces, kitchens, bathrooms...).
As something trendy in pool cladding, we have a collection called Ocean, one of the most popular among consumers nowadays due to its versatility, variety of finishes and four bold colors.
The design possibilities with this collection used along with others in exterior and interior atmospheres are endless as they can be used in places like pools, spas and even bathrooms and kitchens.
It's a collection that's very much appreciated when creating unique effects for both large and small projects.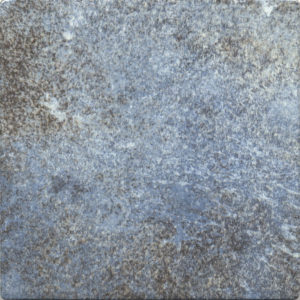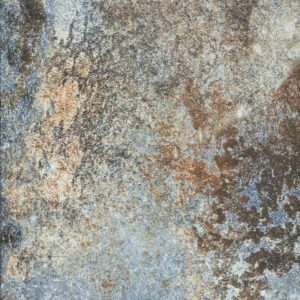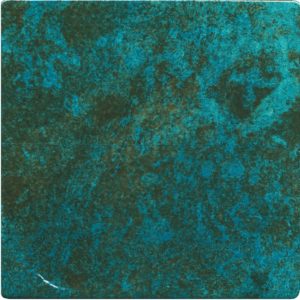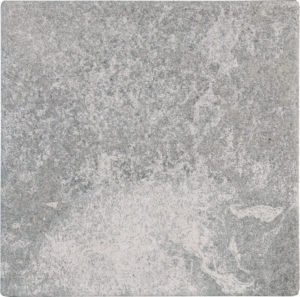 When it comes to the latest in pool cladding, Nador was one of the most recent collections to come out.
A collection with various tones featuring a full set of special pieces for pools as well as all other elements needed (stairs, edges, grates, corners...).
Plus, it offers shiny and matte finishes to guarantee style and safety for all types of facilities.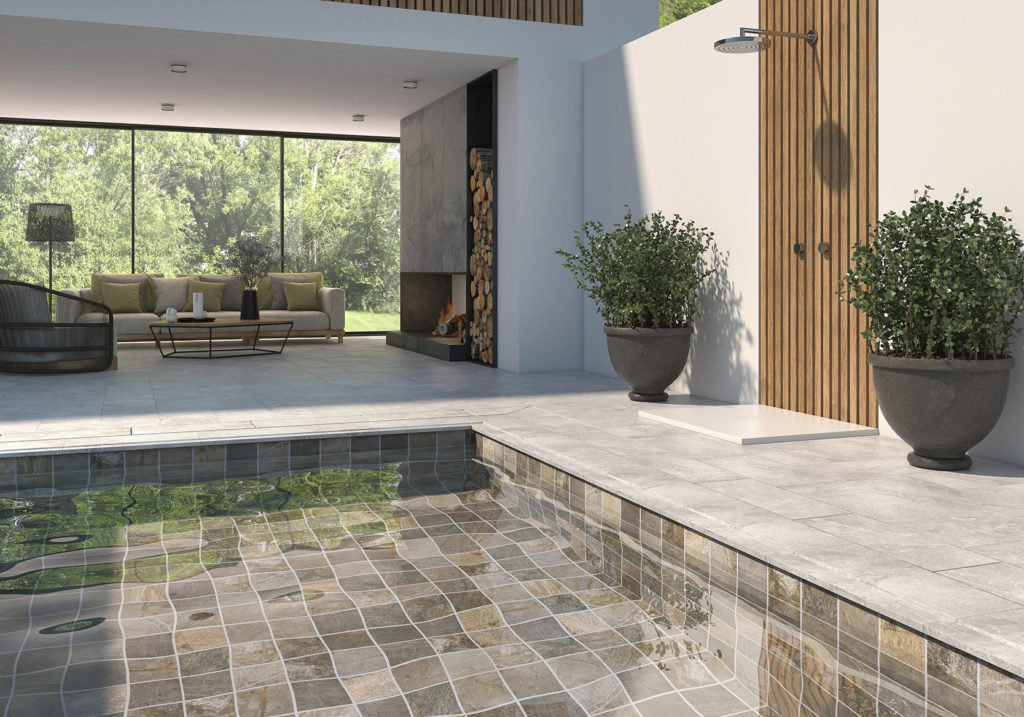 What is the best pool cladding?
When choosing pool cladding, there are different materials to choose from, each with their own advantages and disadvantages.
Here are two of the most common today which we like using at Gres Aragón:
Gresite has been used traditionally for pool cladding; however, with all the progress in design and innovation, porcelain tile is now going strong as it offers excellent characteristics and is quite effective.
On the other hand, there are other alternatives such as reinforced membrane or synthetic paint... which are low-cost yet offer much less quality in their technical characteristics when compared to porcelain tile.
Gresite cladding: It's a type of specialized cladding used in different wet areas of a home. It's comprised of small tiles with a vitreous coating. Gresite comes in a wide range of colors and formats since it's combined with tessera, mesh or paper to create larger tiles. This type of cladding is glued to concrete walls. The disadvantage lies in the fact that it is not completely impermeable meaning you also have to install several layers between the mesh and concrete to make it impermeable. The price is rather high and it's common for the pieces to separate from the wall with the passing of time, which leads to more costs when the cracks must be repaired.
Porcelain tile cladding: The concept of porcelain tile was explained at the beginning of this post. The most remarkable and optimal feature when cladding a pool is that porcelain tile absorbs very little water, meaning it offers a high degree of resistance to bending; in other words, high resistance to breaking and thus it's quite resistant for pools.
The benefits of this material will now be explained in detail as well as why those of us at Gres Aragón believe it's the best material for pool cladding.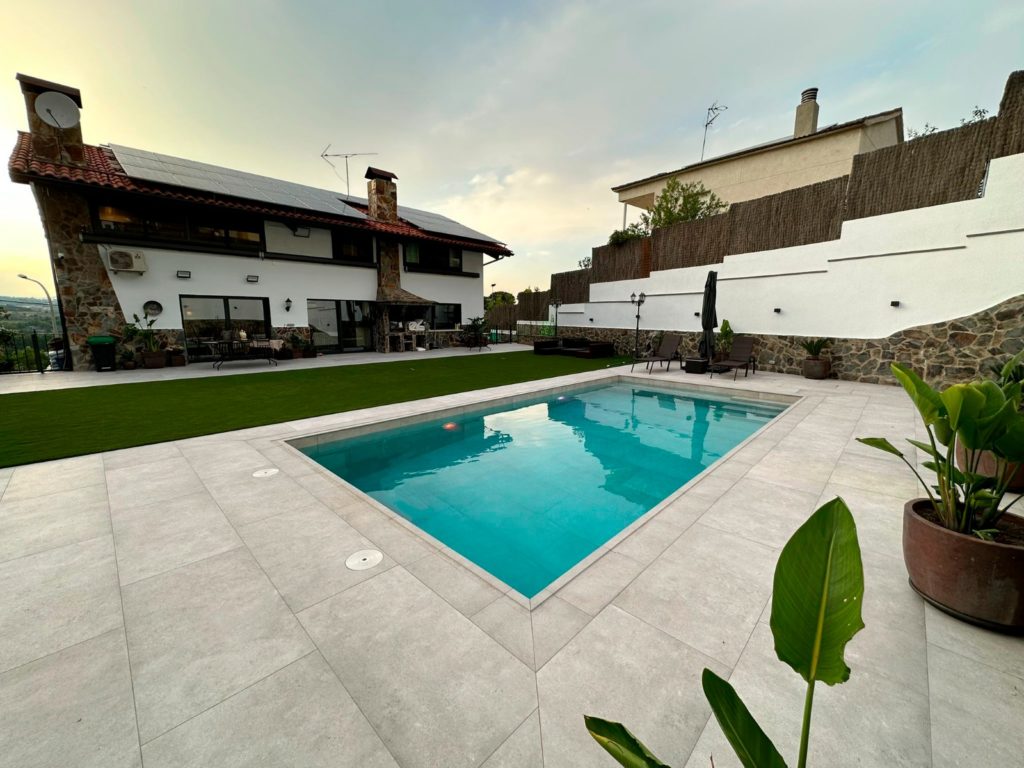 Benefits of pools with porcelain tile cladding
Durability and resistance: One of the main advantages of cladding a pool with porcelain tile is the durability. Ceramic tiles are known for being extremely resistant to wear, decoloring and the chemicals used to treat pool water. This means ceramic cladding can withstand the passing of time and maintain the same look and functionality for many years.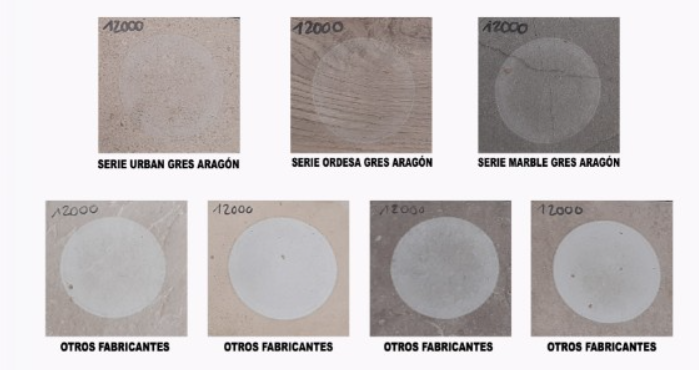 Easy maintenance: Another important benefit when choosing porcelain tile pool cladding is the easy maintenance. Ceramic tiles are easy to clean and do not require any special products for care. With regular maintenance such as cleaning with mild soap and water, pool cladding can be kept in the ideal conditions. Plus, since they're impermeable, ceramic tiles avoid any accumulation of algae or fungi on the pool surface.
The esthetics and variety of designs with non-slip finishes: Gres Aragón ceramic cladding offers a wide range of designs, colors and textures which leads to greater freedom when customizing a pool. Plus, most of this pool cladding is designed with non-slip finishes. These special finishes provide a textured surface to help prevent slips and falls which is particularly important in areas around the pool where the floor tends to be wet. These non-slip finishes can combine esthetics with safety to create an attractive atmosphere all while reducing the risk of accidents. Considering this additional advantage, Gres Aragón ceramic tile cladding is an even more complete choice for those looking for a pool that's not only visually attractive but also safe to enjoy.
Resistance to extreme weather and anti-acid properties: Ceramic tile cladding is not only highly resistant to extreme weather conditions, it also has anti-acid properties. This means any Gres Aragón ceramic cladding can effectively resist the corrosive effects of the chemicals used for pool maintenance such as chemicals for pH balance and cleaning. This resistance to acid guarantees the integrity and quality will be maintained over the long term even under high levels of exposure to chemicals.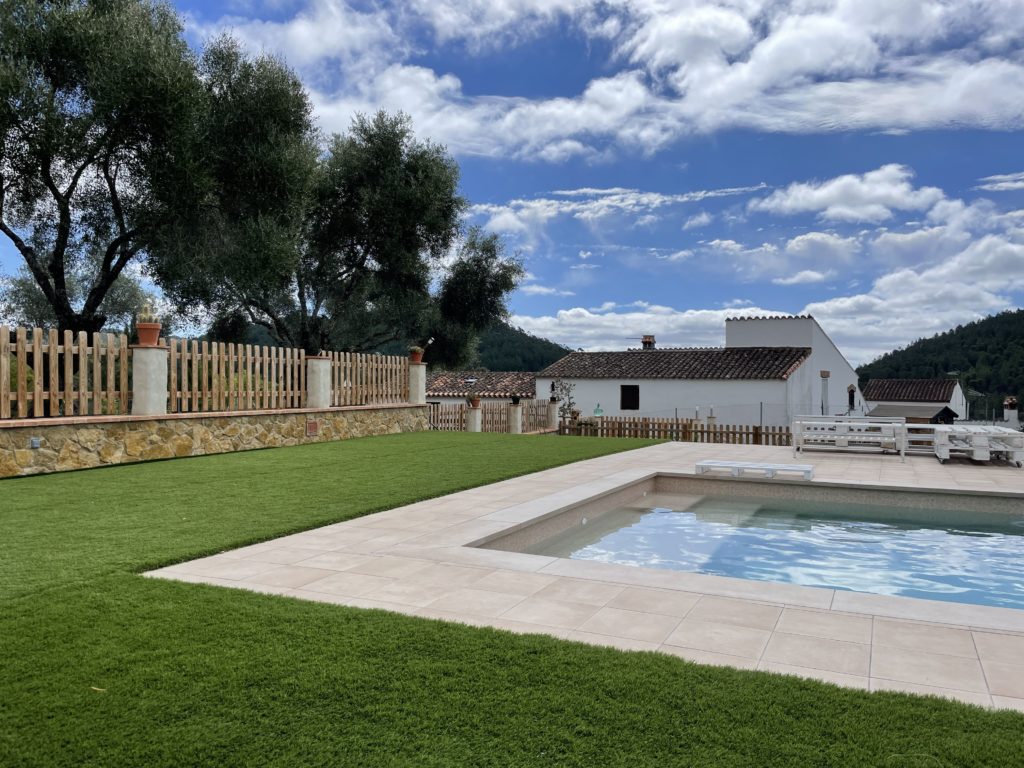 Added value for the property: Choosing porcelain tile pool cladding not only provides the benefits mentioned above, it also adds value to your property. Gres Aragón ceramic tile cladding is considered a high-quality and long-lasting finish and can make a positive impact on the value of your home. And that goes without saying that a well-maintained ceramic tile cladded pool can be an outstanding and attractive feature for possible buyers if you ever decide to sell your property.
Anti-bacterial properties: One excellent characteristic is the capacity to inhibit the proliferation of bacteria. Some ceramic tile cladding options are designed with built-in antibacterial properties which means they can eliminate up to 99% of the bacteria in a period of 24 hours. This characteristic is particularly important when it comes to pools as the water tends to be a haven for the formation of bacteria and microorganisms. Gres Aragón ceramic tile cladding has antibacterial properties which ensures a more hygienic surface and helps keep the pool water cleaner and safer for swimmers.
Choosing porcelain tile pool cladding offers a number of benefits in terms of durability and easy maintenance and is an even more attractive choice for those looking for a pool that not only looks good and is long-lasting, but also much healthier.
Ceramic tile pool cladding
The Gres Aragón collections for pools are quite versatile and also offer the possibility of creating spatial continuity when you want to use the same tones for different areas.
The Ocean and Nador collections mentioned earlier are for pool cladding; however, we have other collections that can be used for pool cladding in addition to being used for the coping.
Our Urban collection is one example. This collection of porcelain tile comes in different formats and different finishes: a non-slip texture designed for exteriors and a smooth surface for interiors.
Plus, we offer a wide variety of special pieces such as risers, step treads, baseboards, corners, stringers... and even 120 cm step treads. In other words, we have all the pieces you need to build a complete pool from the interiors to the access areas.
When selecting porcelain tile pool cladding, there are choices for different tones from lighter colors (white, beige, cream...) to darker ones (grey, brown, graphite...). It all depends on the end project and the consumer's preferences. The collections section of our website shows all of our collections with all the different colors.
Here are a few photos of pools cladded with Gres Aragón materials for some inspiration.
Fill out the contact form or contact us via social media to get help with your project.