CERAMICS, THE PERFECT PARTNER FOR EXTERIOR ARCHITECTURE.
Throughout history, it has been proved that ceramic is a versatile material like few others. Together with the wide range of uses and applications ceramic has become one of the preferred materials for architects and interior designers either for private or public projects.
For several years now, the idea that ceramics were strictly linked to areas such as bathrooms and kitchens has been forgotten, and has conquered more "noble" spaces such as living rooms, dining rooms, bedrooms, lobbies, etc by taking up a preferential place compared to other materials for outdoor spaces.
BENEFITS AND UNLIMITED USES OF CERAMIC OUTDOORS.
Ceramic is considered to be on trend in the architecture sector, thanks to its practicality, resistance and durability. It is a material that hardly requires maintenance, easy to clean and highly versatile from a constructive and decorative point of view, since it can be placed in floors, walls, stairs, ceilings, facades, swimming pools ... Moreover, thanks to the new technologies arising in the sector, in constant innovation, a more resistant and durable material is obtained, coated with heat treatments, with infinite designs, etc.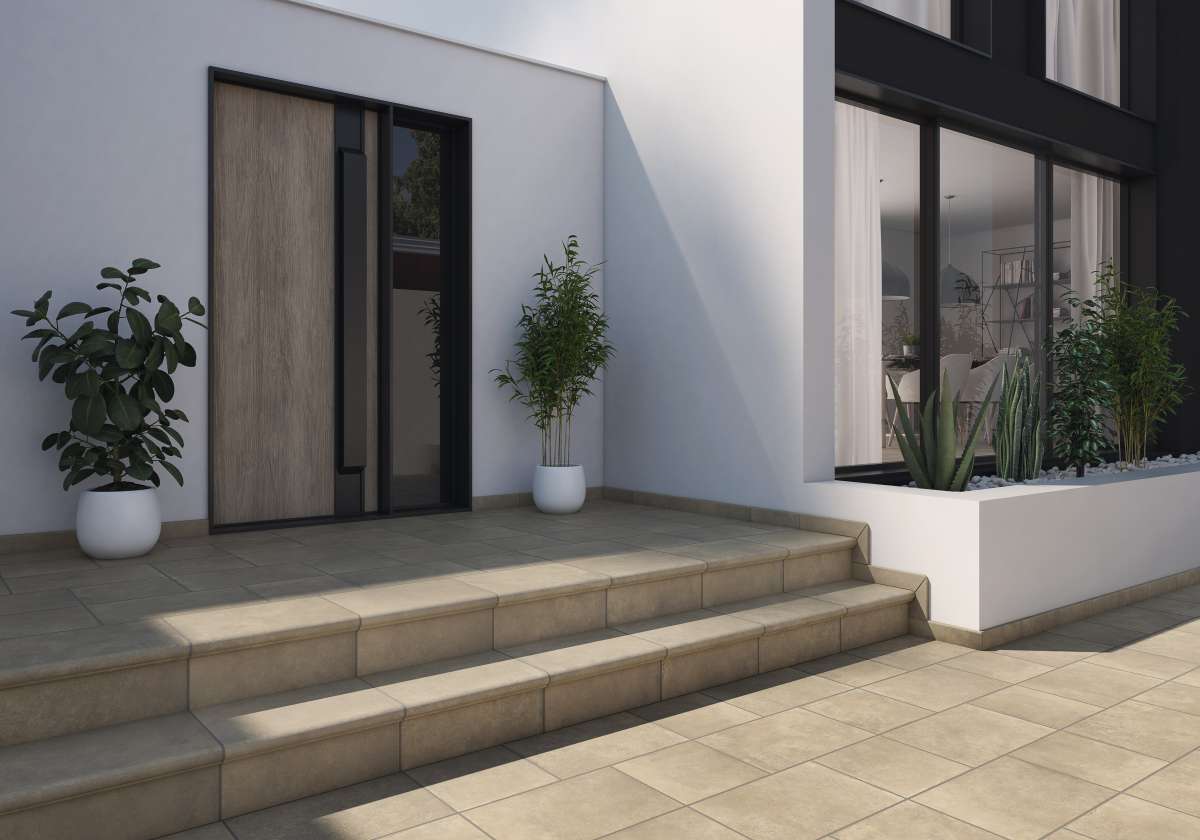 Ceramic GRES ARAGÓNThanks to the production process of extrusion, GRES ARAGÓN ceramics enjoy excellent technical features such as resistance to frost, thermal shock and slip resistance, among others, which make it prescribed, mainly in outdoor spaces. These advantages, in addition to the ability that extrusion allows to create volumetric pieces such as steps, corners, pool edges, allows us to cover all construction areas from inside to outside with the same finishing and aesthetics in all of them, enriching quality aesthetics of the whole project.
In the construction of swimming pools, for example, ceramic allows to have a uniform and durable finishing using the same materials, both on the surrounding areas, and on the edge and the tank of the pool. All this is achieved with an aesthetic finishing in order to suit the consumer's taste. Almost forgotten are traditional pools made of stone and tile, today we can build a pool with wood-looking like ceramic, stone, marble, etc. All this is made complying with the regulations required for this type of construction in terms of safety and hygiene. Gres Aragón has all the required ceramics for the construction of swimming pools in its ACEPOOL division. ACEPOOL.
VENTILATED FAÇADES, ONE MORE STEP IN THE CONQUEST OF OUTDOORS
But if there is any application where architects can make a more creative use of ceramics it is without any doubt, the ventilated façade. In the end, it is all getting the building dressed with a ceramic skin that allows excellent technical characteristics as well as the creation of new areas, effects, volumes…In short, giving personality and character to a building making it unique.
The main function of the ventilated faÇade FAVEKER® is the physical separation between the inside and outside of the building. It involves adapting the building to sustainable construction, which provides a great number of improvements such as: greater energy savings and a reduction in maintenance costs.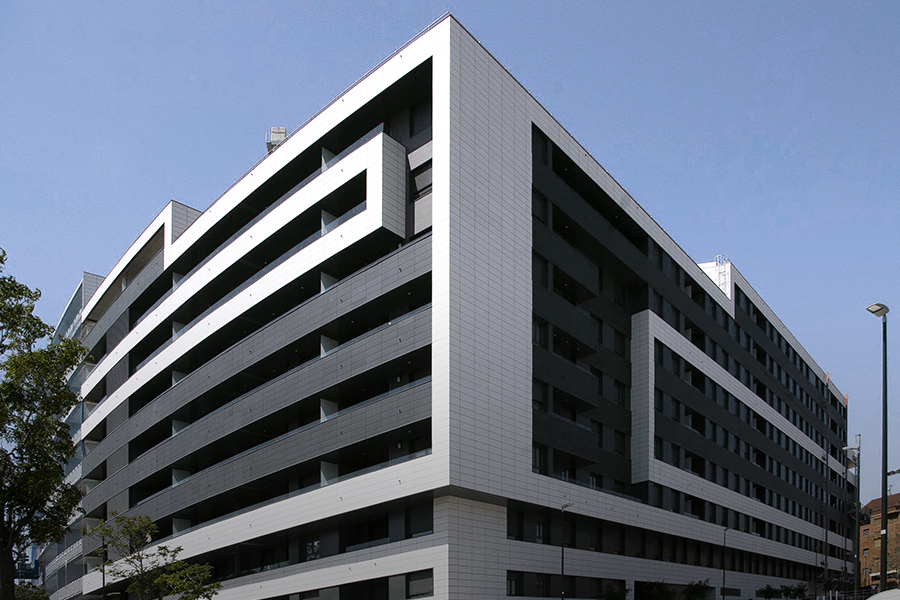 The use of ceramic in ventilated façades provides durability and resistance, endless aesthetic possibilities, increased insulation as well as lightness and cleanliness compared to other materials commonly used in facades. If, as is the case, the parts are registrable, they can be removed if necessary to access existing facilities behind them or for a replacement.
In conclusion, ceramic is a great choice for outdoor spaces, giving them personality, quality, reliability and safety. In addition, thanks to the advances in R + D + i in the ceramic sector, we are more and more competitive and avant-garde to continue conquering outdoors.
Elena Valenzuela Taús
Marketing and Communication Manager at Gres Aragón